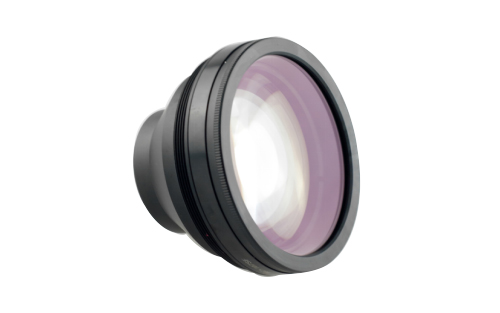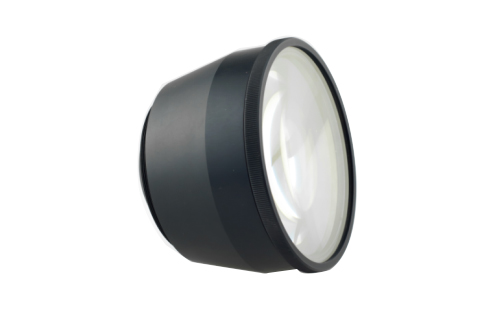 Description
Specifications
Download
Product description:
F-theta lenses are commonly used in applications of laser marking, laser engraving and laser cutting which request constant scan rate and linear displacement. It induces a barrel distortion to produce a flat field in the image plane over the entire working field, so that make the spot position proportional to the scanning angle.
CASTECH provides diffraction-limited and low distortion telecentric and non-telecentric types F-theta lenses with optimized design. Attributed to selected low absorption materials and our unique polishing & coating technology, our ƒ-theta lenses can resist high power with high spot consistency. All the lenses have standard threaded interface which is compatible and easy to assemble.
Applications:
● Laser industrial processing
● Laser sensing system
● Ultrafast laser system
Iintroduction:
| | |
| --- | --- |
| | F-theta lenses have been engineered to provide the highest performance in laser marking, laser engraving and laser cutting systems where constant scan rate and linear displacement are required. F-theta lenses are designed with a barrel distortion, and resulting a displacement that is linear with θ. CASTECH manufactures diffraction-limited telecentric and non-telecentric types F-theta lenses with low distortion. We adopt quality materials, proprietary polishing and coating techniques, and standard interface thread to ensure high laser damage threshold and compatibility of our products. |
Telecentric F-Theta Lenses

Non-telecentric F-Theta Lenses

Advantage

The shape of the central spot is consistent with that of the edge spot.

Small distortion of the spot.

Lower cost.

Disadvantage

Larger size.

Cost more.

The magnification may varies with relative position.

The difference between the center and the edge is large.
Product Number

Wavelength

(a)

Focal Distance

(b)

Scan Field

(c)

FT-a-b-c

355nm

...

109(109.4mm)

160(160mm)

174(174.1mm)

225(255mm)

...

63(63×63mm)

99(99×99mm)

107(107×107mm)

158(158×158mm)

...
| | | | | | | |
| --- | --- | --- | --- | --- | --- | --- |
| Product Number* | Material | Max Input Beam | Scan Area | Wd | M1/M2 | Thread |
| FT-355-109-63 | UVFS | 6mm | 63x63mm2 | 151.5mm | 13/35.5 | M85×1 |
| FT-355-160-99 | UVFS | 7mm | 99x99mm2 | 194.43mm | 13/23 | M85×1 |
| FT-355-174-107 | UVFS | 7mm | 107x107mm2 | 216.48mm | 13/20 | M85×1 |
| FT-355-255-158 | UVFS | 10mm | 158x158mm2 | 319.7mm | 13/28 | M85×1 |
ABOUT US
CASTECH Inc. is a recognized leading supplier of crystals, optics and laser components in the world. Utilizing proprietary crystal growth, fabrication, and polishing techniques, CASTECH has developed a broad range of magneto-optic, acousto-optics, electro-optic, photoelastic and laser application components. Here at CASTECH, we value comity, integrity, honesty, and innovation. Our mission is to be your dependable partner to help you in growth.

Founded in 1988 by FIRSM (Fujian Institute of Research on the Structure of Matter, Chinese Academy of Sciences). A public company (2008, Shenzhen, China, Stock Code: 002222). Sales revenue over US$80 millions. Over 1,000 employees. 40,000 m2 facility. The ratio of domestic and international markets stands at 4:6.
Inquiry List
Contact information
Basic information
Method of contact and profession